Stacja rejestruje odbicia od zjonizowanej przelotem meteoru jonosfery. Odbita fala pochodzi z francuskiego radaru GRAVES monitorującego bliską przestrzeń kosmiczną nad Francją. Radar nadaje falę ciągłą o dużej mocy w paśmie 2m (143,05 MHz). Antena odbiorcza też jest oczywiście na to pasmo.
Za każdym razem, gdy wpadający w ziemską atmosferę meteor jest na tyle duży, by stworzyć odpowiednio długi, szeroki i gęsty zjonizowany ślad – odbija falę emitowaną przez radar. To odbicie jest rejestrowane przez aparaturę odbiorczą. Bezpośredni odbiór radaru nie był by możliwy ze względu na dużą odległość – około 1200 km (są tutaj wyjątki, jak łączności z odbicia od zorzy, czy tez specyficzne warunki pogodowe umożliwiające łączności na dalsze odległości niż typowo), tak więc to co odbieramy na tej częstotliwości to z dużym prawdopodobieństwem jakiegoś rodzaju odbicie.
Nie będą to odbicia tylko od meteorów, ale również odbicia od satelitów czy samolotów. Całkiem spore echo daje – stacja ISS – jest to wysoko umieszczony obiekt o dużej powierzchni. Ciekawe echo daje "pociąg" satelitów Starlink.
Wkrótce powstanie osobny dział z terminarzem obserwacji – znaleźć tam będzie można terminy nadchodzących rojów jak i przeloty ISS rokujące na odnotowanie odbicia.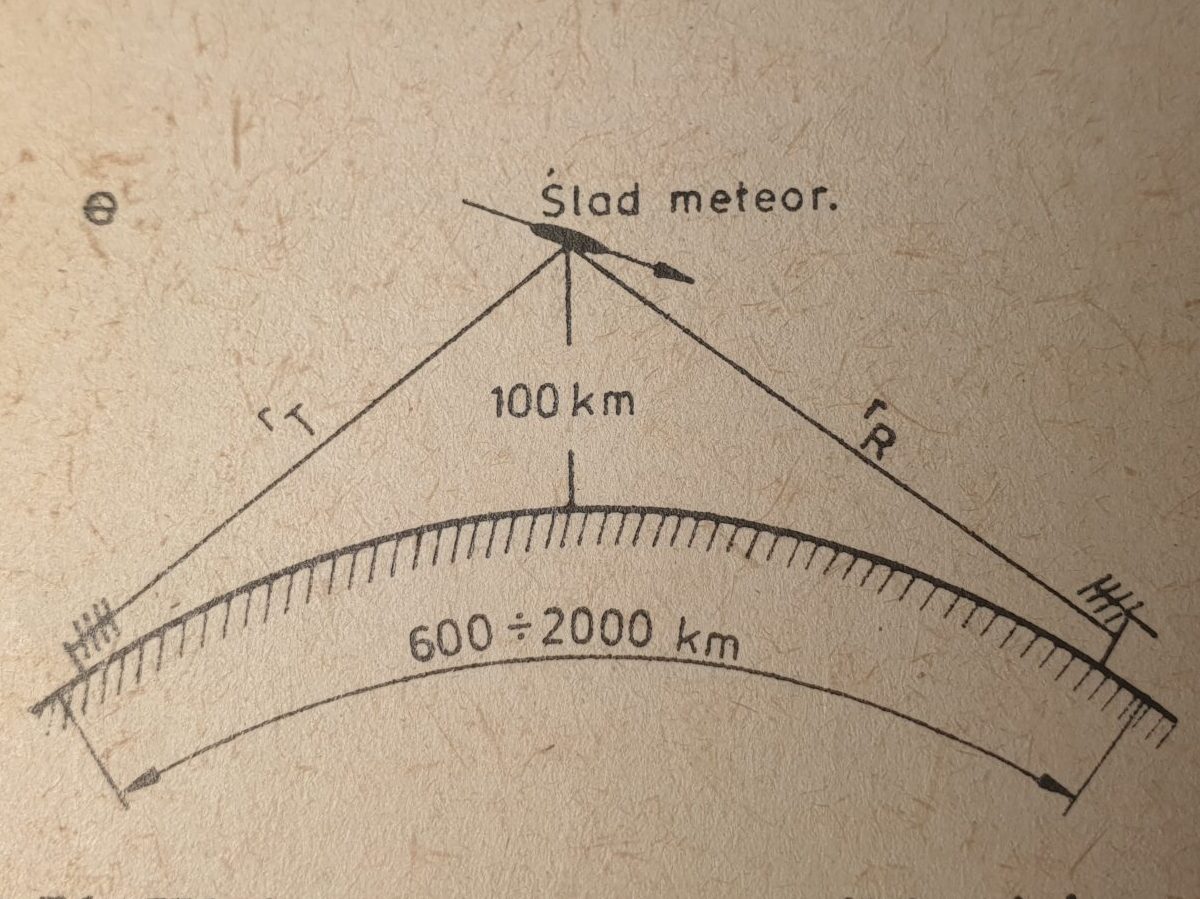 Do odbioru odbić służy system składający się z:
8-elementowej anteny yagi LFA (o niskich szumach) skierowanej w stronę radaru GRAVES
Dobrej jakości filtr pasmowy i przedwzmacniacz (demobilowa aparatura). Odbiornik jest bardzo czuły na przesterowanie – konieczne jest "wycięcie" z odbieranych sygnałów wszystkiego, co nie jest potrzebne. Do odbiornika musi dotrzeć jedynie wąski wycinek widma radiowego – pasmo 2 m. Odbierane sygnały są bardzo słabe, bez wzmocnienia ich będzie można odebrać jedynie najmocniejsze odbicia.
odbiornik SDR (software defined radio)
oprogramowanie SDR ustawione na częstotliwość nadajnika
Docelowo stacja będzie wyposażona w oprogramowanie dokonującego automatycznej detekcji odbić oraz publikowania ich na stronie wraz z nagraniami do odsłuchania / zobaczenia.